Back to Events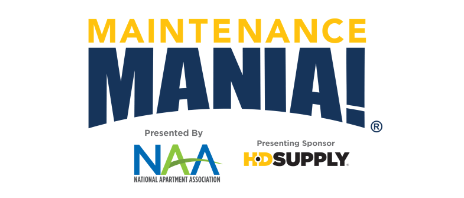 Maintenance Mania
Tuesday, April 12, 2022
Event Details
Participants $25/each: Click here to register:
https://www.naamania.org/events/ERKL5

*Participants will be invoiced following the event.

Spectators $35/each: Click "Register Now" above.

*Includes dinner provided by Belfor.
Are you the fastest Maintenance Tech around? Prove it!
Participate in our upcoming Maintenance Mania® event and show us your skills by completing 7 maintenance-focused challenges. Fastest time wins!
The winner of our event will get the chance to qualify for a spot at the National Championship held at Apartmentalize on June 22, 2022 in San Diego and be crowned the title of Maintenance Mania® National Champion.
If you are up for the challenge and would like to participate in our upcoming Maintenance Mania® event, be sure to build a race car from maintenance products ahead of the event to race it down a 32' long track. You will receive your official race car wheels as soon as you sign up.
Event Details
Date/Time: Tuesday, April 12, 4:30-5:30pm Practice, 5:30pm Competition Starts
Location: Belfor Property Restoration, 7629 Southrail Rd, North Charleston
Contact: Michelle Gordon, michelle.gordon@pegasusresidential.com or Ruthann Klaiber, ruthann@madisoncapgroup.com
*Wheels: Race car wheels can be picked up during weekday business hours at Belfor
Win or lose, you are destined to have a great time. Grab your spot by registering today.
**Participants must compete in all seven challenges plus enter the car in the race car competition to be able to qualify for a spot in the National Championship.
34 Other Registered Attendees